Bundle Offer: EZVIZ UV-C Air Purifier + NOKIA TWS-201 Go Earbuds, Black
in stock
EZVIZ UV-C Air Purifier
Covers up to 42 m²
UV-C Radiation (254 nm) for Germicidal Effect
Four-Stage Filtration
Clean Air Delivery Rate (CADR): Particles, 350 m³/h (206 CFM)
True HEPA Filter
Activated Carbon Filter
NOKIA TWS-201 Go Earbuds, Black
Up to 26 hours of play time
Comfort and secure fit
Use either bud as a mono Bluetooth headset
Touch control
IPX4 water Protection
in stock
Bundle Offer Includes:
EZVIZ UV-C Air Purifier
The EZVIZ UV-C Air Purifier features a four-stage filtration system to purify and disinfect the air. The system comprises a pre-filter, a HEPA filter, an activated carbon filter, and a UV-C light, powerful enough to absorb, remove and neutralize harmful substances from the air you breathe.
1. Covers up to 42 m²
2. UV-C Radiation (254 nm) for Germicidal Effect
3. Four-Stage Filtration
4. Clean Air Delivery Rate (CADR): Particles, 350 m³/h (206 CFM)
5. True HEPA Filter
6. Activated Carbon Filter
7. Filter Replacement Indicator
8. Three Airflow Modes
9. On/Off Timer
10. Child Lock Design
Strict, four-stage filtration.
1. Cleanable Pre-Filter
Traps large particles such as human hair, pet dander and dust particles while extending the life of the HEPA and the Activated Carbon Filters.
Traps up to 95% of allergens and airborne contaminants down to 0.3 microns in size. These allergens include lung damaging dust, mold spores, plant spores, pet dander, and pollen.
3. Activated Carbon Filter
Neutralizes odors and Volatile Organic Compounds (VOCs) such as formaldehyde and benzene, as well as other harmful fumes emitted by household products.
Radiates the air with UV-C light before sending it to the room for healthier breathing.
Disinfects the air with UV-C light.
UV-C range light has been proven effective in killing various viruses and bacteria. By breaking the molecular bonds in the DNA/RNA of viruses, UV-C light makes viruses and bacteria unable to reproduce. The EZVIZ air purifier uses a UV-C light to radiate purified air before sending it out to your room.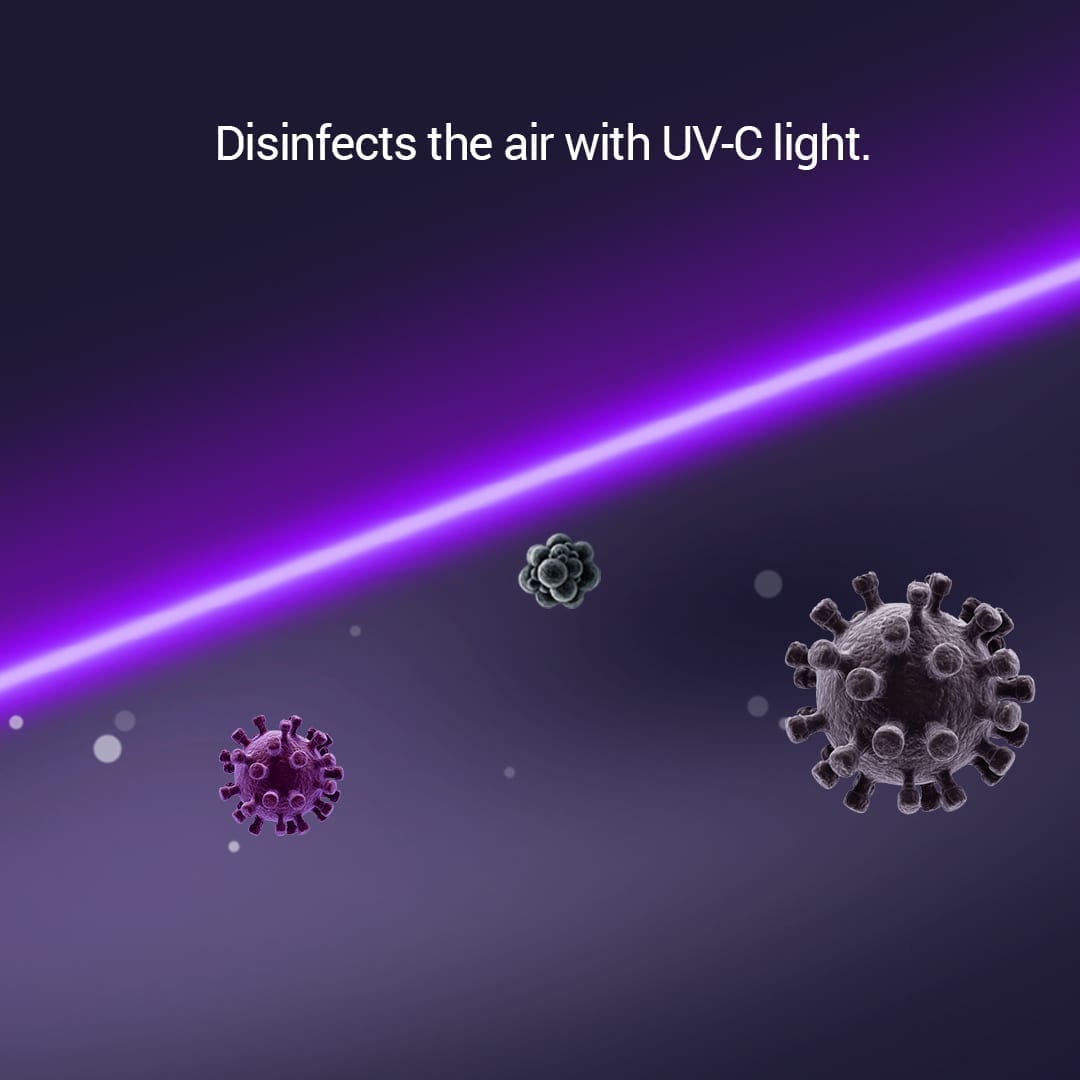 It produces fresher air.
Negative air ion density is one of the most important criteria in evaluating air quality. The EZVIZ UV-C air purifier generates millions of negative air ions to quickly and effectively deodorize and freshen up your room.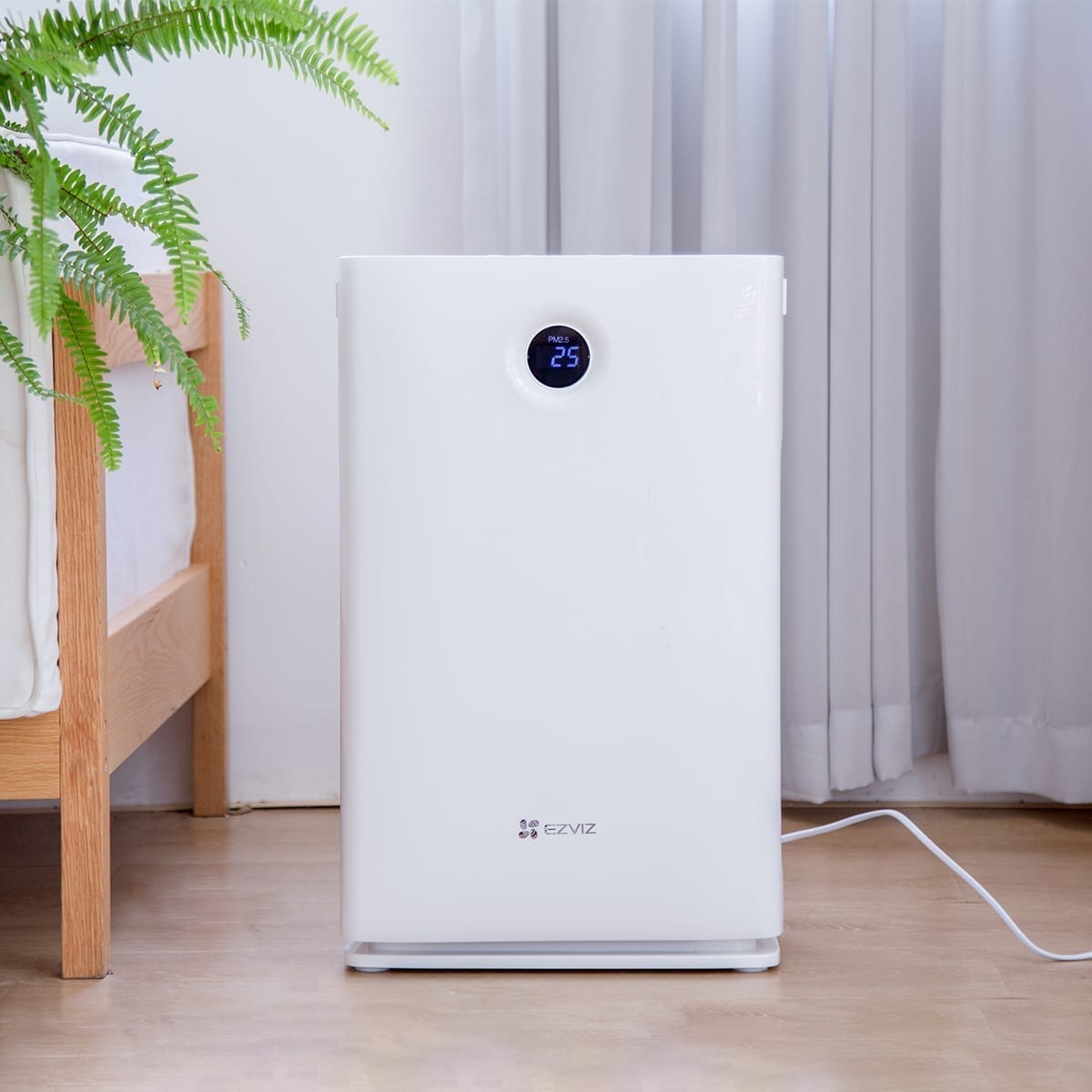 Three airflow modes.
The EZVIZ UV-C Air Purifier lets you set the fan speed and the built-in timer lets you select how long you would like it to run.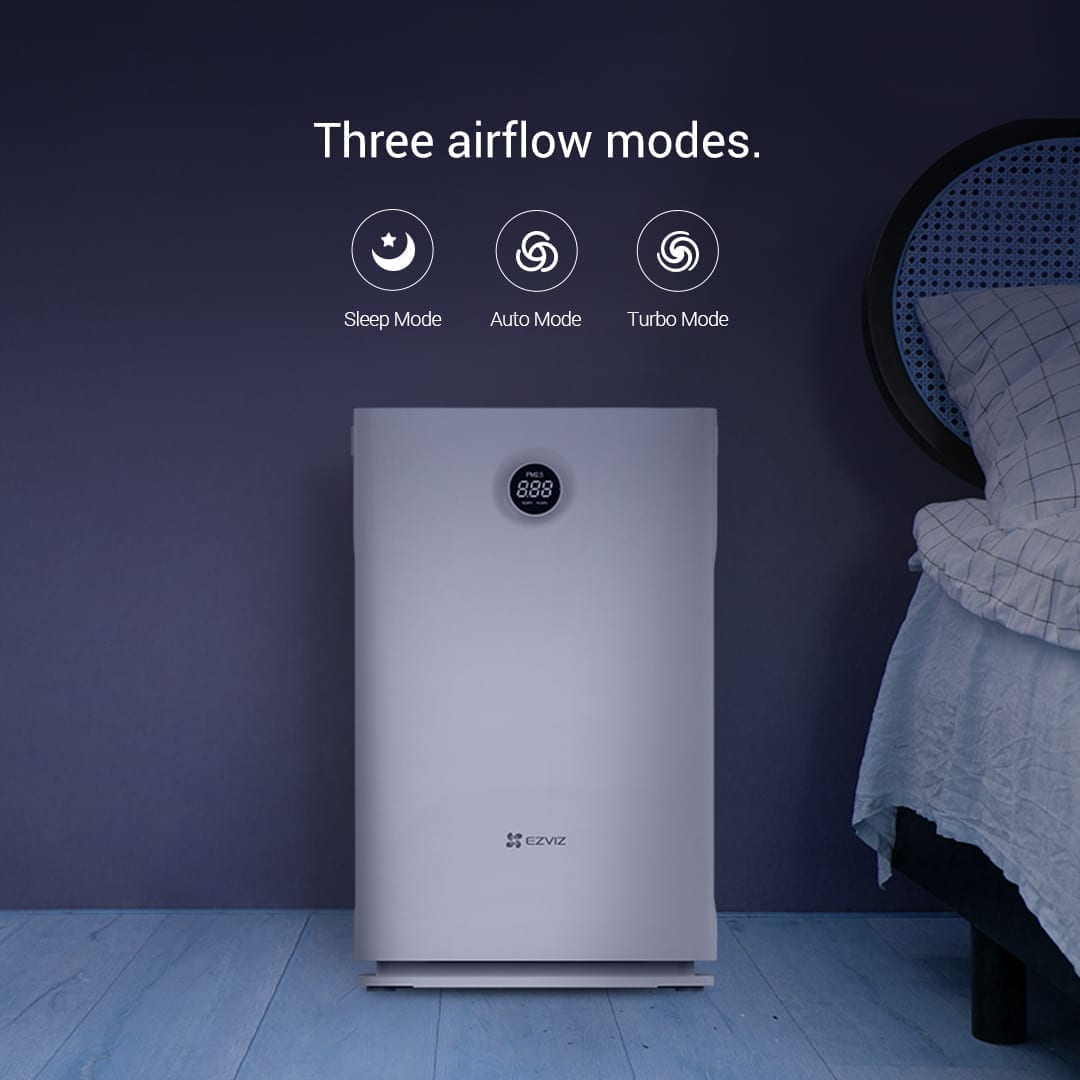 Air quality visualized.
You will know whether the air in your room is clean or dirty and whether the indoor environment is healthy or not by reading the display on the faceplate — it shows the PM 2.5 level, humidity, and the temperature of your room in sequence.

Easy operation.
The device is incredibly easy to use, and each task can be done on the device itself.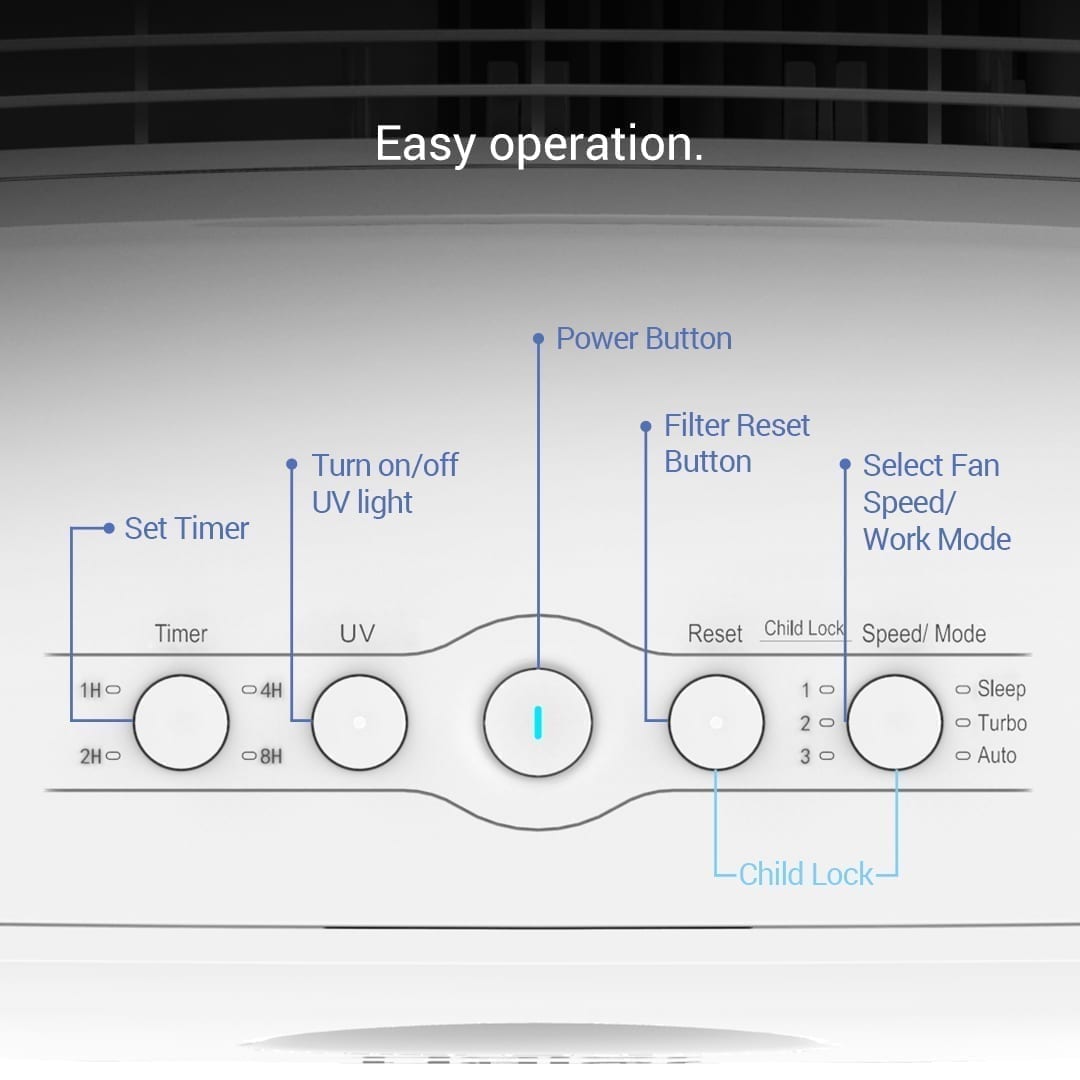 5. Select Fan Speed/Work Mode
UV-C Air Purifier
Breathe Cleaner, Healthier Air
Specifications
Model Parameters
Model
CS-EB350A
Purification
CADR (Particles)
350 m³/h
Max. Noise
66 dB (A)
Max. Applicable Area
42 m²
Filters
Primary Filter
Sponge Filter
HEPA Filter
H11 HEPA Filter
Active Carbon Filter
Coconut Shell Active Carbon Filter
Functions
UV-C Light Sterilization
Supports
Negative Air Ion Sterilization
Supports
Fan Speed Setting
1-3 Gear
Working Modes
Supports Sleep, Turbo, and Auto Modes
PM2.5 Air Quality Display
Supports Air Quality Value
Filter Change Display
Supports
Child Lock
Supports
Timer Modes
Supports (1H, 2H, 4H, 8H)
Dust Sensor
Supports
Wi-Fi
None
General
Power Supply
220~240V/50HZ
Power Consumption
Max. 80W
Product Dimensions(W × D × H)
374 × 215 × 594 mm (14.7 × 8.5 × 23.4 inch)
Net Weight
6.88 kg (242.7 oz)
Model Parameters
Model
CS-EB-FILTER001
Filters
Primary Filter
Sponge Filter
HEPA Filter
H11 HEPA Filter
Active Carbon Filter
Coconut Shell Active Carbon Filter
Product Dimensions (H × W × D)
Primary Filter
404 × 341 × 5 mm (15.9 × 13.4 × 0.2 inch)
HEPA Filter
404 × 341 × 26 mm (15.9 × 13.4 × 1.0 inch)
Active Carbon Filter
402 × 336 × 10 mm (15.8 × 13.2 × 0.4 inch)
Net Weight
0.84 kg (29.6 oz)
Gross Weight
1.14 kg (40.2 oz)
In the box:
In the box
UV-C Air Purifier; Quick Start Guide
Certifications:
Certifications
CE / RoHS / REACH / WEEE
NOKIA TWS-201 Go Earbuds, Black
Specifications
Up to 26 hours of play time
Comfort and secure fit
Use either bud as a mono Bluetooth headset
Touch control
IPX4 water Protection
6 hours of playtime on earbuds | Extra 19.5 hours with charging case
Button controls for Play/Pause | Answer/End call
Color: Black
What's in the box
Charging case
Earbuds (L/R)
Ear tips (S/M/L)
USB Type-C cable
Quick start guide
Product and safety information
Remote control functions may vary depending on the model of your device and application. Sound track instructions do not respond to iOS devices. Since devices with Bluetooth wireless technology communicate using radio waves, they do not need to be in direct line-of-sight. Bluetooth devices must, however, be within 10 meters (33 feet) of each other, although the connection may be subject to interference from obstructions such as walls or from other electronic devices.
Frequency Band: 2400 MHz – 2483 MHz
Maximum Radio Frequency Power: -6~+4dBm