Corsair iCUE 4000X RGB Tempered Glass Mid-Tower ATX Case — Black
The CORSAIR 4000D AIRFLOW is a distinctive, high-airflow optimized mid-tower ATX case with easy cable management and two included CORSAIR 120mm AirGuide fans for exceptional cooling.
4000X RGB MID-TOWER ATX CASE
A CLEAN START TO A GREAT BUILD
As beautiful to look at as it is easy to build in, the 4000X RGB tempered glass merges elegance with innovation – the perfect starting point for a world-class build.
TEMPERED GLASS SIDE AND
FRONT PANELS
Show off your components and RGB lighting, with dedicated front ventilation channels for ample airflow.
CORSAIR RAPIDROUTE CABLE MANAGEMENT
Route your major cables through a single channel, with a roomy 25mm of space behind the motherboard for all of your cables, making a clean-looking build easier than ever.
POWERFUL DIRECTED AIRFLOW
Equipped with two CORSAIR 120mm AirGuide fans, utilizing anti-vortex vanesTo concentrate airflow and enhance cooling.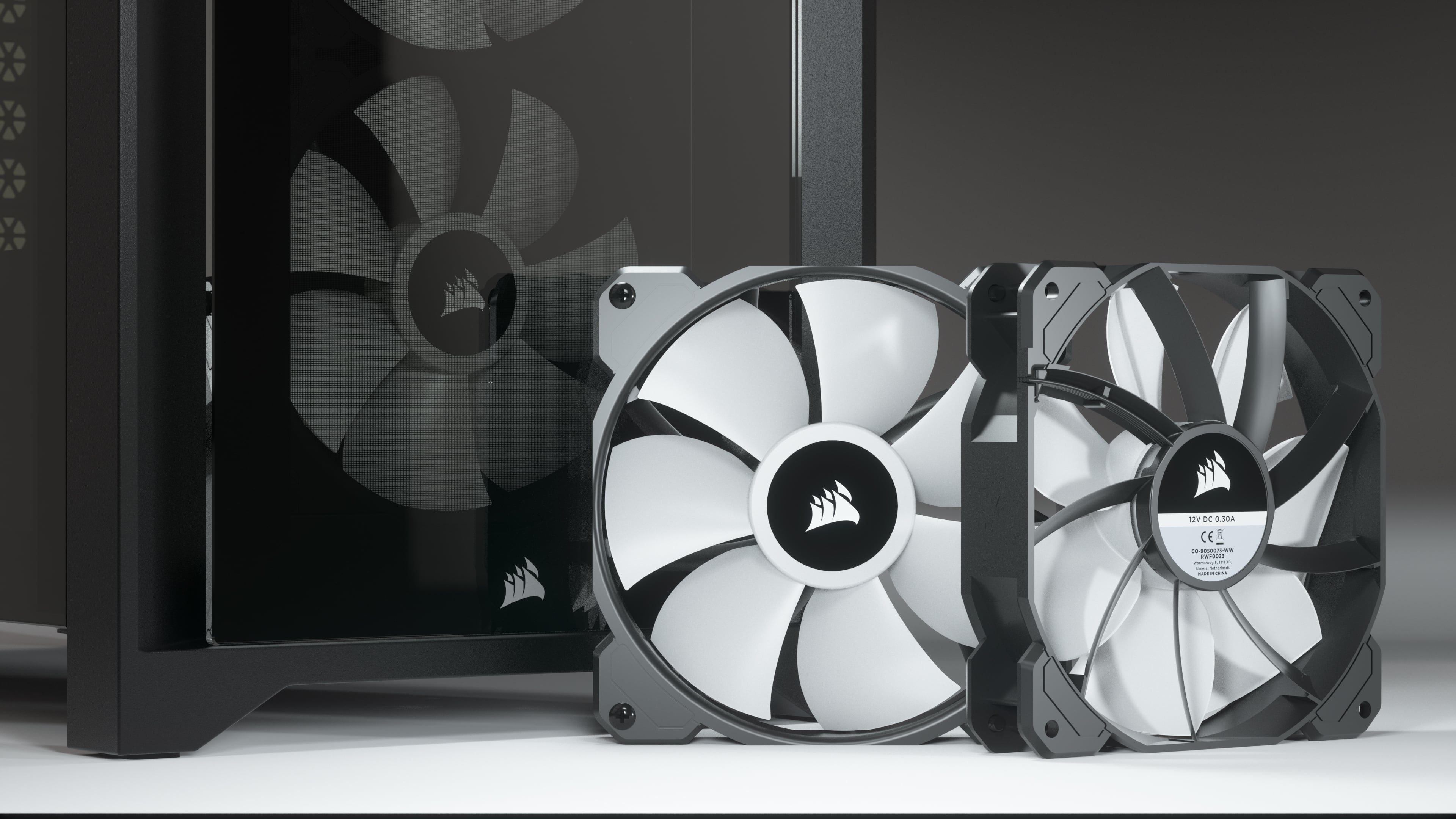 RGB LIGHTING OUT OF THE BOX
Fully control and synchronize the RGB lighting for up to six fans with the included iCUE Lighting Node CORE and CORSAIR iCUE software.
ELEGANTLY VERSATILE
Build it how you want today, with an easy upgrade path for tomorrow.
EXTREME COOLING POTENTIAL
A spacious interior fits up to 6x 120mm or 4x 140mm cooling fans, along with multiple radiators including a 360mm in front and 280mm in the roof.
DIMENSIONS
Compact yet efficient, the 4000X RGB has excellent potential for expansion without being cumbersome.
FAN CAPACITY
120           140
Fan mounts feature wider cutouts, allowing fan placement customization and flexibility.
RADIATOR CAPACITY
120 MM FANS      140 MM FANS
Plenty of room for a roof radiator and fans without contacting your high-end memory modules.
ALL THE STORAGE YOU NEED
Fits up to 2x 2.5in SSDs and 2x 3.5in HDDs, with relocatable SSD trays that can be moved to the front PSU cover.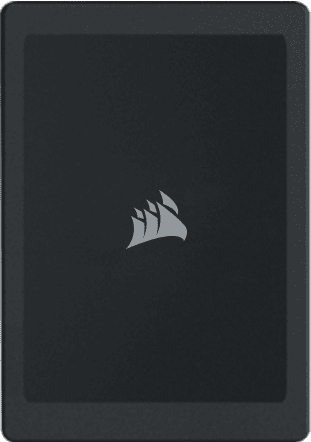 SSD                                                    HDD
PUT YOUR CONNECTIONS WITHIN EASY REACH
The modern front panel I/O panel includes a USB 3.1 Type-C Port, USB 3.0 port, and a combination audio/microphone jack.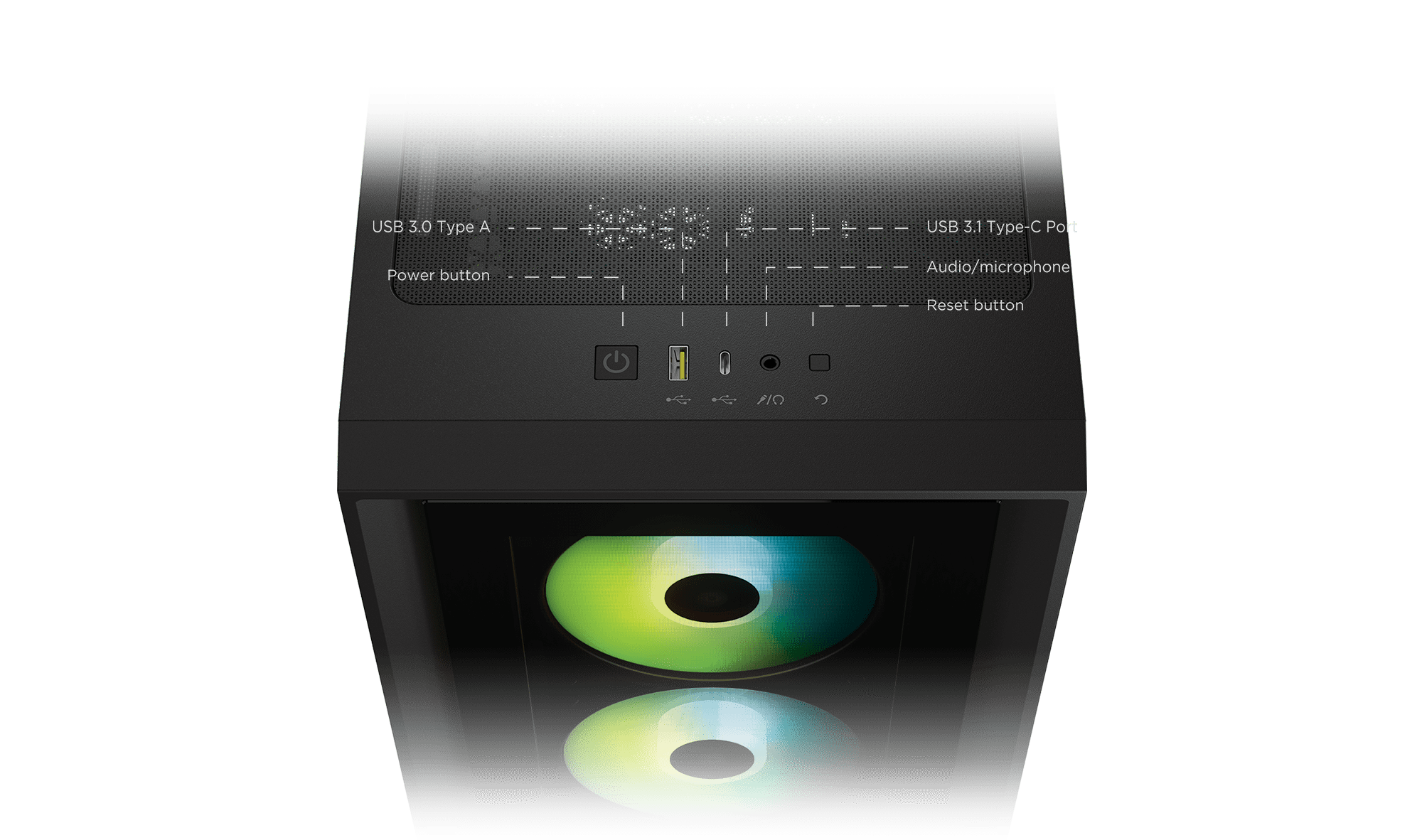 VERTICAL GPU
MOUNT READY
With included vertical PCIe slots and a screw mount for a CORSAIR PCI-Express 3.0 extension cable (sold separately) you can show off your GPU and keep it secure at the same time.
EASY SLIDE-ON,
SLIDE-OFF
SIDE PANEL
Show off your high-profile components and RGB lighting with an easy slide-on, slide-off attach method.
Tech Specs:
Case Dimensions: 453mm x 230mm x 466mm
Maximum GPU Length: 360mm
Maximum PSU Length: 180mm (220mm if HDD cage removed)
Maximum CPU Cooler Height: 170mm
Expansion Slots: 7+2 vertical
Case Drive Bays: "(x2) 3.5in (x2) 2.5in"
Case Windowed: Tempered Glass
Case Material: Steel, Tempered Glass, Plastic
Radiator Compatibility: 120mm, 140mm, 240mm, 280mm, 360mm
Compatible Corsair Liquid Coolers: H55, H60, H75, H80i, H90, H100i, H105, H110i, H115i, H150i
Case Power Supply: ATX (not included)