Klevv 16GB DDR4 SO-DIMM 3200Mhz Standard Memory
KEY FEATURES
Faster Processing Speed
Reliable SK Hynix chips
Quick and easy Laptop Upgrading
Modern Black PCB
Motherboard Compatibility
KLEVV DDR4
DDR4 memory for
Faster and smarter laptop computer
Features
Faster Processing Speed
No more slow laptops!
KLEVV DDR4 SO-DIMM offers faster speed
for high volume media playing and editing.
With 2666, 3200Mhz of high frequency,
KLEVV DDR4 SO-DIMM is designed
to improve work productivity.



Quick and easy Laptop Upgrading
By simply choosing a good ram memory,
A laptop performance can be greatly enhanced.
KLEVV DDR4 SO-DIMM enables quick
and easy self laptop upgrade.
Upgrading laptop has never been this easy.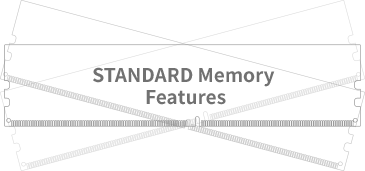 KLEVV Memory modules comply with

multiple international standards
Specifications
Type
260 Pin DDR4 Small Outline DIMM
Frequency
2666, 3200
Capacity
2666 / 4GB(4GBx1), 8GB(4GBx2, 8GBx1), 16GB(8GBx2,16GBx1), 32GB(16GBx2)
3200 / 8GB(8GBx1), 16GB(8GBx2, 16GBx1), 32GB(16GBx2), 32GB(32GBx1), 64GB(32GBx2)
CL Value
2666 / 19-19-19-43
3200 / 22-22-22-51
Warranty
Limited Lifetime Warranty
Ordering Information
Speed
Package
Capacity
Product Description
EAN Code
2666
Bulk
4GB
KD44GS48*-26N1900
4895194965800
8GB
KD48GS88*26N1900
4895194965817
16GB
KD4AGS88*26N1900
4895194965824
KD4AGSA8*-26N1900
4895194966340
Retail
4GB (4GBx1)
KD44GS481-26N190A
4895194966128
8GB (8GBx1)
KD48GS88C-26N190A
4895194966135
16GB (16GBx1)
KD4AGS88C-26N190A
4895194966142
KD4AGSA8*-26N190A
4895194966180
8GB (4GBx2)
KD44GS481-26N190D
4895194966159
16GB (8GBx2)
KD48GS88C-26N190D
4895194966166
32GB (16GBx2)
KD4AGS88C-26N190D
4895194966173
KD4AGSA8*-26N190D
4895194966197
3200
Bulk
8GB
KD48GS88*-32N2200
4895194966401
16GB
KD4AGS88*-32N2200
4895194966418
KD4AGSA8*-32N2200
4895194966425
Retail
8GB(8GBx1)
KD48GS88*-32N220A
4895194966517
16GB(16GBx1)
KD4AGS88*-32N220A
4895194966524
KD4AGSA8*-32N220A
4895194966531
16GB (8GBx2)
KD48GS88*-32N220D
4895194966593
32GB (16GBx2)
KD4AGS88*-32N220D
4895194966609
KD4AGSA8*-32N220D
4895194966616
32GB (32GBx1)
KD4BGSA8*-32N220A
4895194966968
64GB (32GBx2)
KD4BGSA8*-32N220D
4895194966975