Klevv Bolt X 32GB(2x16GB) DDR4 U-DIMM 3600Mhz OC/Gaming memory
KEY FEATURES
Performance Enhancing
Best-in-class Memory Chips
Aluminum Heat Spreader
Ecosystem Compatibility
One-step Overclocking
DDR4 OC/Gaming memory
KLEVV BOLT X
Adhering to KLEVV's low-profile yet powerful BOLT series,
the brand-new BOLT X DDR4 gaming memory
further brings your system performance to the next level.

Applying strictly-selected memory chips made with advanced semiconductor technology,
strictest screening procedure to deliver enhanced performance,
the new BOLT X makes your system run FAST AS A BOLT!

KEY FEATURES
Performance
Enhancing
Best-in-class
Memory Chips
Aluminum
Heat Spreader
Ecosystem
Compatibility
One-step
Overclocking
Pure aluminum heatsink with designed pattern
In pursuit of minimalism and simplicity, the brand-new BOLT X memory is extremely slim and lightweight.
What's more, by applying specially-designed heat spreader made with 99.5% pure aluminum,
BOLT X is extraordinary in heat conductivity and durability.
Support Intel XMP 2.0 for One-Click Overclocking
Focusing on ecosystem compatibility,
BOLT X has been tested with the latest Intel chipset/platform.
With its XMP 2.0-ready feature, BOLT X is also perfect for gamers to experience
the amazing speed by one-click overclocking!
KLEVV Memory complies with Multiple international standards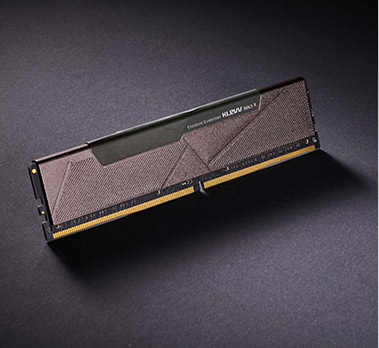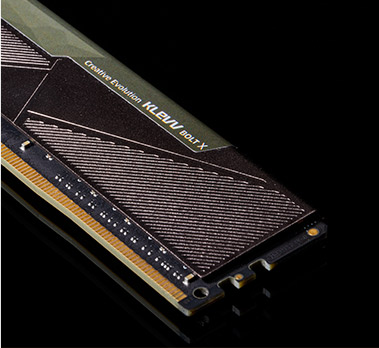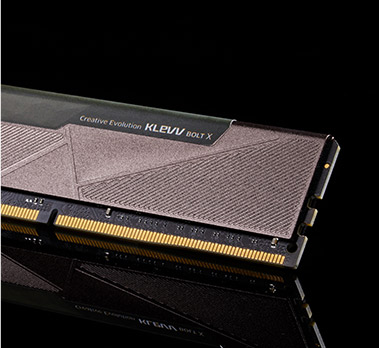 Specifications
Format
288 Pin DDR4 Unbuffered DIMM
Capacity
8GB(8GB x1)/ 16GB(16GB x1, 8GB x2)/ 32GB(16GB x2)
Speed
3200 16 – 18 – 18 – 38 @1.35V

3600 18 – 22 – 22 – 42 @1.35V

Dimension
(L) 133 x (W) 33 x (H) 6 mm
Warranty
Limited Lifetime Warranty
Ordering Information
Speed
Capacity
Product Number
EAN Code
3200
8GB (8GB x1)
KD48GU880-32A160T
4895194958741
16GB (16GB x1)
KD4AGU880-32A160T
4895194958949
16GB (8GB x 2)
KD48GU880-32A160U
4895194965862
32GB (16GB x 2)
KD4AGU880-32A160U
4895194965879
3600
8GB (8GB x1)
KD48GU880-36A180T
4895194965916
16GB (16GB x1)
KD4AGU880-36A180T
4895194965923
16GB (8GB x2)
KD48GU880-36A180U
4895194965930
32GB (16GB x2)
KD4AGU880-36A180U
4895194965947
Save up to

39.4%

Save up to

ر.س

246

Only

ر.س

379

Save

58.6%

Save

ر.س

140

Only

ر.س

99